introducing Tyler Bright Hilton's epic saga of Minmei Madelynne Pryor & the dryer
DA 80 features `An Alice of a Different Order: Tyler Bright Hilton's Suite of Twenty Etchings' in Tom Smart unfolds the "imagistic ecosystem" surrounding the work of emerging Toronto printmaker Tyler Bright Hilton. He specifically studies Hilton's suite of intaglio prints entitled Minmei Madelynne Pryor Went into the Dryer, a "grotesque re-write of Alice in Wonderland" and "a coming-of-age story" about "finding the spectacular in the mundane". Smart details the unusual artistic influences absorbed into Hilton's work—most notably a late-fourteenth-century Florentine artist whose dogmatic voice compelled Hilton to sharpen his stylus and train his eye—resulting in a unique and idiosyncratic artistic world that challenges engaged viewers to participate in the story's unfolding.
Chester Gryski contributes personal annotations for Andrew Steeves's book, Glen Goluska in Toronto, attempting to `fill in the blanks' of Goluska's career with his own memories and reminiscences on the printer and his work.
Also included in this issue is Shane Neilson interview of Lisa Johnson, administrator of the JackPine Press Editorial Collective.
Recurring features include the Rogues' Gallery, featuring a profile of Larry Thompson of Greyweathers Press, and Richard Kegler's discussion of Chromatic Ornate Type. Kandid Kamera captures a talk about digital revivals of historical types by Paul Shaw at the Arts & Letters Club .
The cover features a partial showing of an unfinished version of Rod McDonald's Cartier Book Cyrillic, presented with technical support from Patrick Gribn of Canada Type. The keepsake is a specimen of Chromatic Ornate and has been printed by the Virgin Wood Type Manufacturing Company of Rochester, New York.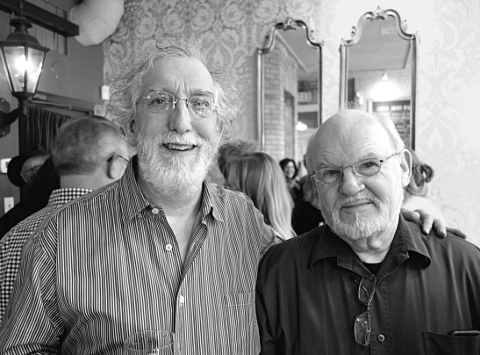 Paul Shaw with Rod McDonald who designed Cartier Book based on Carl Dair's Cartier, released for Canada's centenary in 1967. Credit: Don McLeod.
You Might Also Like
Buy in Print
To get this issue in print, order from your favourite indie bookseller, or
buy online from AbeBooks »
---