In DA 73, Tom Smart contributes 'Dan Steeves: What Lies Unseen', an illustrated examination of the work and career of Dan Steeves, a renowned Canadian intaglio printmaker (and distant relative of Andrew Steeves, the book publisher). Born in 1959 in Moncton, New Brunswick, Steeves received his B.F.A. from Mount Allison University in 1981. Since 1982 he has exhibited his art in numerous solo and group exhibitions in Canada and internationally. He has received several prestigious awards for his work, and his prints can be found in public and private collections the world over. In this article, Tom Smart demonstrates the development of Steeves' complex personal iconography and visual alphabet. He investigates the way in which Steeves' work is defined by a sense of place and family, but also its ability to symbolize the artist's spiritual quest for truth, enlightenment and transcendence.
Around and About features Chester Gryski's review of A Death Greatly Exaggerated: Canada's Thriving Small and Fine Press, an exhibition held at the Thomas Fisher Rare Book Library at the University of Toronto. Included are images documenting the small press fair held at the conclusion of the exhibition.
Patrick Griffin reviews Simon Loxley's biography, Printer's Devil: The Life and Work of Frederic Warde, and Will Rueter reviews P.K. Page's Stories of Snow, published by the Barbarian Press, Mission, B.C., as part of its letterpress pamphlet series The Seasons.
The cover image is a detail of an etching by Dan Steeves entitled When we're called to share not common pleasures but pain. 2006.
The keepsake was printed letterpress by Peter Bartl of PB+J Press, Balfour, BC. It features a quotation from Ralph Waldo Emerson: "Do not go where the path may lead. Go instead where there is no path and leave a trail."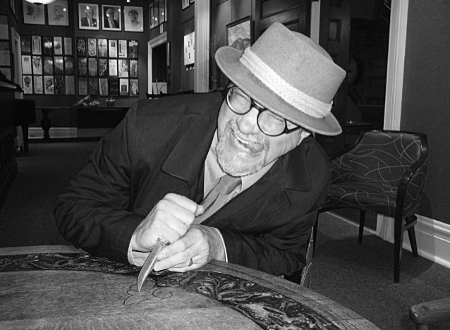 George A. Walker tries to re-engrave the Ridpath table in the lounge of the Arts and Letters Club, Toronto, October 8, 2013. Credit: Don McLeod.
You Might Also Like
Buy in Print
To get this issue in print, order from your favourite indie bookseller, or
buy online from AbeBooks »
---