Burying a Measuring Stick: Curator Tom Smart Presents Carl Beam's Columbus Suite
When Carl Beam's large-format photo-serigraph entitled North American Iceberg was purchased by the National Gallery of Canada in 1986 it marked the first acquisition of contemporary art for the national collection by an artist of First Nations heritage. A prescient early step, perhaps, towards the reconciliation that now consumes any evaluation of Canadian social justice in the wake of the disaster that was inflicted on the native population by the residential school system. Carl Beam was just one of countless innocent victims of the residential schools, but the power of his witness to the horror has been manifest in the Columbus Suite, which he created in 1990 as a counterpoint to the festivities attached to the five-hundredth anniversary of the arrival of Christopher Columbus to North America, or Turtle Island as it is known to the indigenous population.
DA 84 considers Carl Beam's Columbus Suite, with contributions from Carl Beam's daughter, Anong Migwans Beam, as well as Tom Smart, who currently serves as executive director of the Beaverbrook Art Gallery.
Also in this issue, Julia King provides an introduction to Massey College's Bibliography Room—the heart of the University of Toronto's Book History and Print Culture program. Jan Figurski highlights a collection of endpapers, now made available as a downloadable digital resource on the DA website.
Recurring features include the Rogues' Gallery, featuring a profile of Tom McNeely, and Richard Kegler's discussion of Preissig Calligraphic. Kandid Kamera contains photographs from the launch of the Canadian Fine Press Exhibit at the University of Toronto's Kelly Library as well as photos from Meet the Presses 2018.
The front cover image based on a woodcut from the book Epistola Christafor Columbi (1494) depicting a ship thought to be the Santa María. Contemporary colorization by Stephanie Small. The keepsake presents a marbled paper from the collection of Jan Figurski.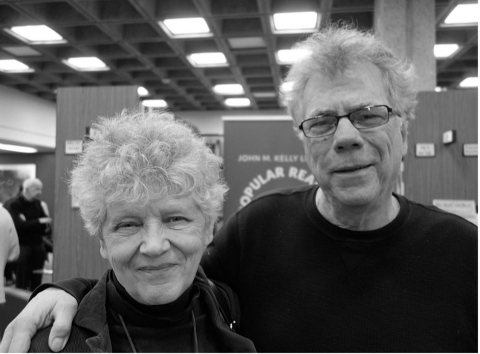 Bookseller Janet Inksetter and poet Bruce Whiteman enjoyed the launch of the Canadian Fine Press Exhibit, which opened at the Kelly Library at University of St. Michael's College, University of Toronto, January 22, 2019. Credit: Don McLeod.
You Might Also Like
Buy in Print
To get this issue in print, order from your favourite indie bookseller, or
buy online from AbeBooks »
---