Trading in the Real: Andrew King and Design on the Canadian Prairies
Bonne Zabolotney and Joel Derksen collaborate on a featured retrospective on the career of Andrew King (1885–1981), whose King Show Print (Estevan, SK) specialized in the production of very large-format, multi-colour posters designed to promote spectacles such as the Barnum & Bailey Circus that toured north into the Canadian prairies on the Soo Line from Chicago. Warren Clements presents 'The Wonderful Worlds of Walter Trier, Illustrator'. Wood engraver George A. Walker celebrates the recent publication of the trade edition of Mary Pickford, Queen of the Silent Film Era. Jaleen Grove recuperates Magazine Digest in the context of Jewish identity and cultural nationalism in Canadian publishing. Janet Nichol explores the printmaking legacy of West Coast linocut artist Sybil Andrews (1898–1992). And Richard Kegler presents Milton Glaser's iconic late twentieth-century display face Babyteeth, which first appeared on a psychedelic Bob Dylan poster in 1966.
Also in this issue is the Rogues' Gallery, featuring a profile of Peter Dorn.
The front cover is a bit of a shameless mash-up that pilfers stock elements from a number of posters produced by King Show Print (Estevan, SK) on behalf of Conklin Shows, E.J. Casey and the Odyson Circus. The keepsake presents a selection of Garamond rules excerpted from a Redfield-Kendrick-Odell Specimen Book (New York, 1927).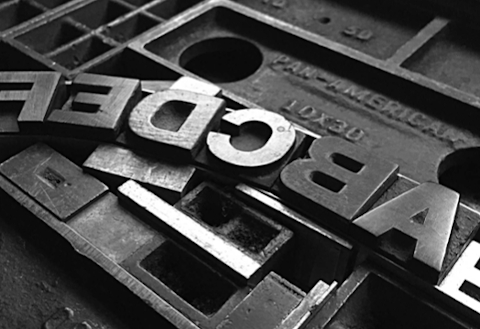 5-line Heber Wells Gothic No. 10 locked in a challenging bent form on the Vandercook 219 press.
You Might Also Like
Buy in Print
To get this issue in print, order from your favourite indie bookseller, or
buy online from AbeBooks »