Wood Engraver George A. Walker Reimagines Lewis Carroll's Hunting of the Snark
Cameron Anstee recollects the marginal small press community active in Ottawa in the 1960s, which included poets William Hawkins, Harry Howith and Roy MacSkimming—who would later write The Perilous Trade: Book Publishing in Canada 1946–2006. The community also included painters and print-makers Robert Rosewarne and Fran Jones, who published a series of broadside poster poems and designed and printed books for Jay Macpherson's Emblem Books. Daniel Marrone presents core samples from the world of experimental comics publishing in Toronto, focusing on the work of Coach House Books, Koyama Press and Vortex Comics. Publisher Tim Inkster details an array of adventures attached to the publication of Leon Rooke's latest novel, The House on Major Street. And wood engraver George A. Walker re-imagines Lewis Carroll's Hunting of the Snark through the prism of contemporary American politics.
Also in this issue is the Rogues' Gallery, featuring a profile of Patrick Griffin, and Richard Kegler's discussion of Beaufonte Showcard Script.
The front cover image is after an engraving by George A. Walker from the Cheshire Cat Press edition of Lewis Carroll's The Hunting of the Snark. The keepsake presents a specimen of the Colville fonts available from Patrick Griffin's Canada Type.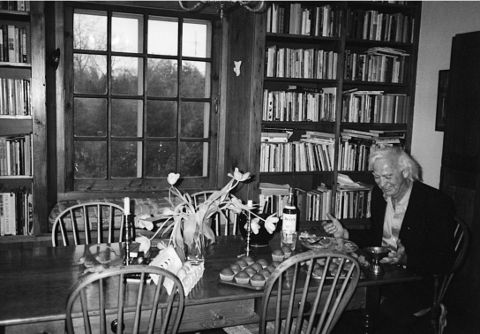 Leon Rooke in the dining room of the hotel in Eden Mills, likely spring 1995. Credit: Tim Inkster.
You Might Also Like
Buy in Print
To get this issue in print, order from your favourite indie bookseller, or
buy online from AbeBooks »
---