Sturm und Drang: publisher Tim Inkster reflects on the challenges of publishing P.K. Page
Tim Inkster's professional relationship with P.K. Page began in the spring of 1985 when Constance Rooke commissioned a broadside of P.K.'s poem 'Deaf-Mute in a Pear Tree' as a promotion for The Malahat Review. An anecdotal history of their many collaborations over the next two decades serves to highlight the gulf of misunderstanding that continues to bedevil the aspirations of scholarship as well as the increasingly threatened copyrights of commercial book publishers. Duncan Major contributes a letterpress keepsake and reflects on his role as the printer's devil at Tara Bryan's walking bird press of Flatrock, Newfoundland. Richard Kegler presents Fairbank Italic which was issued by Monotype in 1929 as 'Bembo Condensed Italic' though it was never intended to be anything of the sort. Sara Lough remembers her brother Paul Forage who was one of the three founding editors of the Devil's Artisan. And editor Don McLeod shares snapshots of printmaker Mark Huebner beginning work on a new graphic novel in the boardroom of the Arts & Letters Club on Elm Street in Toronto.
The front cover is adapted from a single monotype ornament that was found in An Exhibit of Garamond Type with Appropriate Ornaments, New York: Redfield-Kendrick-Odell Co., 1927. The keepsake is based on a phrase from Tara Bryan's business card and printed letterpress by Duncan Major at Running the Goat.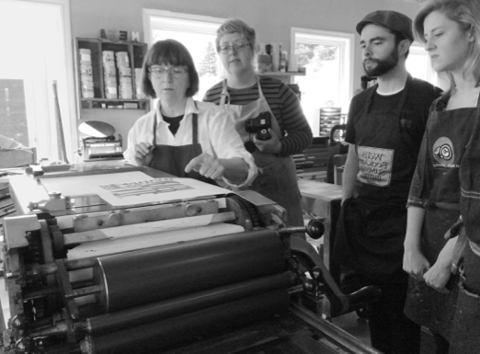 Tara Bryan teaching a class at Runnng the Goat, Books and Broadsides
You Might Also Like
Buy in Print
To get this issue in print, order from your favourite indie bookseller, or
buy online from AbeBooks »
---