Buchstabenfreude: Bibliophile Nigel Beale presents Will Rueter and The Aliquando Press
Buchstabenfreude: bibliophile Nigel Beale presents private press printer Will Rueter and The Aliquando Press of Dundas, Ontario. Shawn Henshall remembers John Wilson (Jack) McLaren, a twentieth-century caricaturist and printmaker who befriended members of the Group of Seven at Rous & Mann and then later at the Arts & Letters Club on Elm Street in Toronto. Librarians Manda Vrkljan and Silvia Vong engage undergraduate students in book history and letterpress printing through situated learning at St Michael's College. Librarian John Shoesmith introduces the Studio of Robert Wu, Bookbinder and Marbler. Michelle Hogan-Walker laments the closing of Don Black Linecasting. Wesley W. Bates offers a preview of a few of the engravings that will appear in his new collection, Out of the Dark , scheduled for publication by the Porcupine's Quill in the spring of 2022. And Richard Gegler presents Trenton, a machine-cut wood type that was first introduced by William Page in his 1888 Specimen book. Retro print culture from a distinctly nineteenth-century perspective.
The front cover features a wood engraving by Wesley W. Bates that appears in Out of the Dark(Porcupine's Quill, 2022). Digital colourization by Stephanie Small. The keepsake is a linocut by J. W. McLaren that depicts Lorne Pierce, editor at the Ryerson Press from 1922 to 1960.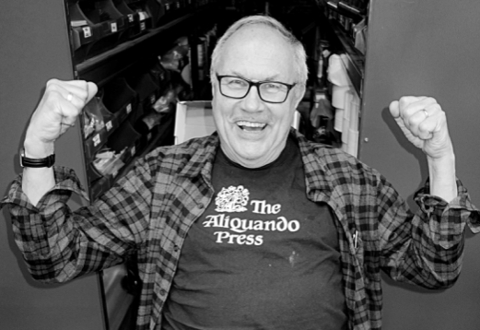 Will Rueter at the Howard Iron Works book fair, September 29, 2019. Credit: Don McLeod.
You Might Also Like
Buy in Print
To get this issue in print, order from your favourite indie bookseller, or
buy online from AbeBooks »
---