Featuring the work of printmaker Tony Calzetta and some other nice stuff as well
Recent issues of the Devil's Artisan are available digitally directly from our own proprietory eBook store in PDF format. The magazine is also available digitally through Magzter for various devices, including Android, Apple, Kindle and Windows.
For more information about the contents of this issue and for a photograph of of Tony Calzetta's book sculpture, How God Talks in His Sleep, please push the arrows in the bottom right of this window
DA 76 (Spring 2015) features Tom Smart's "Fabulous Peculiarities", an exploration of the prints, drawings, paintings and bookworks of Tony Calzetta. Smart chronicles Calzetta's early influences in order to document the evolution of the artist's unique and complex visual aesthetic. The article further explains how Calzetta's artistic background led him to create a collaborative visual narrative with poet Leon Rooke and printmaker Dieter Grund, entitled How God Talks in His Sleep and Other Fabulous Fictions.
The issue also includes a sampler of fanciful wood engravings from Jim Westergard's upcoming collection of historical portraits, Oddballs.
Recurring features include Richard Kegler's discussion of Goudy's Aries Typeface, as well as the Rogues' Gallery, featuring a profile of Dieter Grund. Kandid Kamera documents a meeting to consider the theatrical possibilities of Tony Calzetta'sFabulous Fictions.
The cover and keepsake images digitally manipulated and coloured graphite sketches by Tony Calzetta. The cover image is entitled Cézanne's Muse, while the keepsake is called Love Has Kissed Me in a Beautiful Place.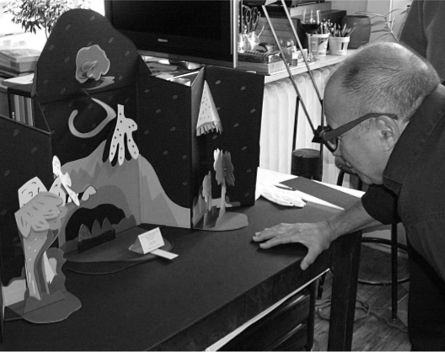 You Might Also Like
Buy in Print
To get this issue in print, order from your favourite indie bookseller, or
buy online from AbeBooks »
---
Close up, as Tony discovers, there's this thing about the burden of tithing and the lure of open graves. Credit: Don McLeod.