The Wood Engravings of George A. Walker
DA 68 (Spring 2011) is guest edited by Tom Smart, and features a lead article entitled From Wood Engraving to Graphic Narrative: The Development of George A. Walker's Xylographica.
The issue also includes A Suite of Engravings from The Mysterious Death of Tom Thomson, a graphic novel by George Walker, with an Introduction by Tom Smart, and a review of George Walker's Book of Hours by Bill Baker.
The Rogue's Gallery features Nicholas Kennedy of Trip Print Press (Toronto).
The occasional photographs include a tour of Don Taylor and Kate Murdoch's bindery on John Street, Nicholas Kennedy working the Vandercook at Coach House, and Don McLeod's visit to the Gutenberg Museum in Mainz.
Printed offset on the Heidelberg KORD at the printing office of the Porcupine's Quill in the Village of Erin, Wellington County, Ontario, Canada. Smyth sewn into 16-page signatures. With coloured endleaves, hand-tipped, front and back.
Keepsake laid in is after an engraving from The Mysterious Death of Tom Thomson. Printed letterpress by Nicholas Kennedy at Trip Print Press in Toronto. The cover was printed offset by Tim Inkster at the Porcupine's Quill after an engraving by George Walker.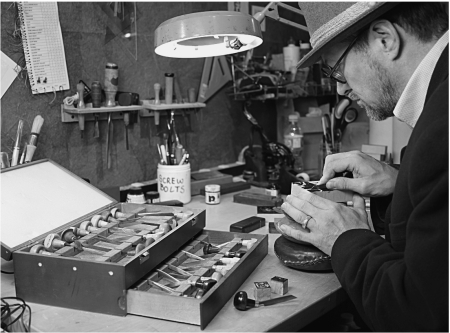 You Might Also Like
Buy in Print
To get this issue in print, order from your favourite indie bookseller, or
buy online from AbeBooks »